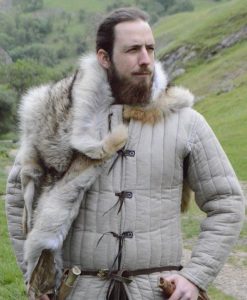 Welcome to BookNest.eu! Can you tell us a few things about yourself?
Rob J. Hayes, first of his name, writer of words, winner of SPFBOs, father of beagles, and I will have my vengeance in this life or the next.
What book did you enter SPFBO with, and is it your debut?
Never Die. It is not my debut. I've been around the block.
Editor's Note: Over at booknest.eu, we are very fond of Rob. We can supply all of you with character references, if you don't believe him!
Tell us a few things about it. What should the Judge you'll be allocated to, expect from it?
Slash, stab, death, back from the dead, a quest from the gods, impossible odds, redemption.
Editor's Note: A succinct and very correct retelling of this contender's novel. Weeeeeell…
You'll compete against 299 other books. Do you believe your book will stand out against the competition, and if yes, why?
I'm the ex-heavyweight champion of the world.
WHERE DID YOU HIDE THE MONEY!??!?!
You'll have to prise it from my cold, dead hands.
Editor's Note: It didn't have to come to this, Hayes!
Why did you decide to enter SPFBO in the first place?
This time around? Mihir kept bugging me.
Are you working on a book right now? What should we expect from you next?
Angels!
Anything else you would like to add? A message to the other contestants, the Judges, or Mark Lawrence himself?
Hi guys! *waves*
What is the airspeed velocity of an unladen swallow?
African or European?
Editor's Note: We get that a lot. Seriously. Our AI hasn't worked out all the kinks and intimate knowledge of birds…that's a big one!
Thank you for doing this, Rob, and we wish you the very best of luck over what is certain to be a tough competition!