I abandoned my gaming self a long time ago and as such, have not heard about The Witcher until someone mentioned that the image of Anomander Rake brought to mind Geralt of Rivia from the video game.  That got my attention immediately.  For those who have read my Malazan reviews, you will know that Anomander Rake is one of my favourite grimdark characters of all time.  
Thus, I promptly checked out the cinematic game trailers – the ones for The Witcher III were exceptionally good.  And then I found out that the game was adapted from a book series by a Polish author and that The Witcher is also soon to be a new series on Netflix.  Ah, this is indeed a marvellous time to be a fan of the fantasy genre.   
This book is a compilation of six short backstories which are book-ended and interspersed by a longer current frame story, serving as an introduction to Geralt of Rivia, the titular character of the series.  Geralt is a witcher, a professional killer of monsters, wielding both swords and sorcery.  Being trained from a young age, witchers also undergo specific physiological changes to enable them to fulfil their paid tasks of exterminating monsters.  
My foray into the world of The Witcher can be said to be untainted from any prior knowledge from the video games.  I was pleasantly surprised that to find that the storytelling is both familiar and different at the same time.  A gorgeous blend of Slavic folklore and fairy tale retellings in classic fantasy style with an European medieval setting, the experience of reading The Last Wish was both refreshing and oddly comforting, like settling into my favourite sofa recently reupholstered.  
You know how some books or series which centre around the main protagonist seem to fall flat as far the characterisation of said person is concerned.  This can range from the character either being too good to be true, or bland and unsympathetic, or even too caricature sometimes.  Such a shortcoming does not exist from what I've discerned from The Last Wish so far - Geralt of Rivia is the highlight of the story and he comes across as a fascinating and complex character that is badass to boot.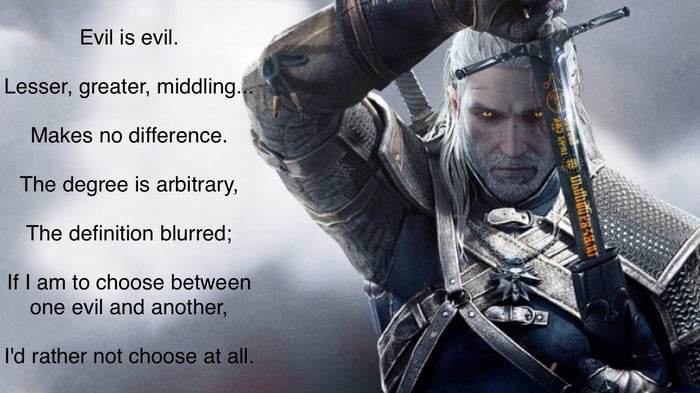 The original books are written in Polish, and I can safely say that the translation does not seem to take anything away from the narrative.  The writing is not overly embellished but has an engaging simplicity that makes reading the tales enjoyable and immersive.  
In short, I am looking forward to continuing with the next set of short stories in Sword of Destiny and then embark into the full-blown series.