The concept of demon children being raised to follow in their fathers' line of work was an intriguing concept. Throw in a special snowflake who never realized what she is and has all these "weird" powers which she's afraid to confront gives you a typical YA paranormal book. Furthermore, adding a guy who knows all the ins and outs of a trade, and is taken by our special snowflake gives you the typical YA paranormal romance.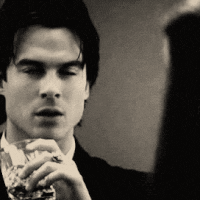 Apart from these roll-your-eyes aspects, the world building was, like I said, intriguing. Older demons showing the ropes of influencing human beings to their young ones is well-written. Plus, doing otherwise gets them killed. The art of subtly playing on their prey's weakness, or rather flaw, is smoothly articulated in this book. And one big accomplishment of Wendy Higgins is that she made me think how I would react in such situations – if I was being played like this. I know a lot of authors make an attempt at this but it doesn't mean they were successful. Wendy Higgins was. To make the reader really think, that is.
Anna (the special snowflake I mentioned above) meets Kaiden in a gig that his band is performing in. The cloistered, naïve girl is in for a shock with the revelations Kaiden brings into her life. To know that she is a demon's spawn contradicts everything she ever stood for. (And she is not only a demon spawn – her other parent is something else entirely. I'm pretty sure you can figure out what her other parent is which makes her a special snowflake :P)
Although the storyline was engrossing and well planned, there were parts where the characters make choices which weren't natural to them, but were necessary for the plot to take a certain direction. It gave the plot very confusing 'did he/she really do that?' moments.
Moreover, the side characters were well developed and I found them just as interesting as the main characters, if not more, especially Anna's father and Kopano! I wouldn't mind if Anna ends up with Kopano. But her conviction that she is in love with Kaiden gets in the way. 
And speaking of Kaiden I don't see him reciprocating Anna's feelings with the same intensity as she does. It was vaguely implied that he does so but something from Kaiden's point of view would've helped. He does this out-of-the-blue things that are supposed to make you see that he really does love her but…like I said out-of-the-blue. Meh! reaction.
 Oh and the twelve Dukes were perfectly sinister and disgusting too!
Nonetheless, although it wasn't an instant favourite, it was a good story and I would continue reading this series.