I've said it before and I'll say it again: there just aren't enough pirates in fantasy.  But author Rob J. Hayes is trying his best to remedy that lack of nautical naughtiness, and he's doing a fine job.  His pirate duology, Best Laid Plans, is one of the most entertaining pirate adventures I've come across, and I was thrilled when he agreed to an interview.  I hope you enjoy the interview below, and that your thirst for piracy will be quenched by Rob's creation.
First of all, thanks for agreeing to this interview, Rob!
When did you first decide you wanted to become an author, and how did you get into writing?
ROB: Well I've always been a bit of a dreamer. Or probably a lot of a dreamer really. Even at school I was that kid who spent half his time staring out a window imagining orcs and elves doing battle in the playground. But it wasn't until I was about 15, I think, that I actually started writing stories down rather than just running them through my head. I remember I had just finished reading Aurian by Maggie Furey and I thought "I could give this a go". Of course back then I had no real idea what plot or characterisation really meant, and my sentence structure was pretty much a wall of text. I like to think I've improved a little along those lines.
It wasn't until I was 26 that I actually decided to sit down and write some real books and try to make a career out of it. I was pursuing a career in Zoology at the time and I spent 3 months living on a desert island in Fiji, diving down to the reefs and cataloguing the sea life. There was quite a lot of downtime so I started writing stories in a journal, all focusing on a world I'd been building for quite a long time. I think I wrote 2 short stories, and then started my first book in that little leather bound journal. And 1 of those short stories, the Sword of the North, actually made it to print in my anthology collection, The Bound Folio. The other short and the full book did not, they are forever consigned to my not good enough folder. Once I got back from Fiji I made writing my priority and focused on that same world which has since become First Earth.
Fabulous answer.  Living in Fiji sounds like the experience of a lifetime!  You mentioned your career in Zoology, and I know that's what you studied at university.  Does that knowledge come into play very often in your work?  If so, can you give us an example?
ROB: Oh it definitely does, though rarely in major ways. I like to throw fantasied up creatures into my books here and there. In The Ties that Bind there's a spider the size of a small dog that can jump and spit venomous webbing. Both are traits that appear in spiders in real life, but never in the same species. I cheekily combined those traits and then blew the spider up from the size of a finger nail to the size of a dog. Then I decided it would sit on the shoulder of a pirate instead of something more mundane like a parrot, and that much of the pirate ship's rigging would be made from spider silk instead of rope. I'm not sure I'd ever have come up with that idea if not for my background in Zoology. There's a few more examples hidden throughout my books as well so I definitely put the knowledge to some use, even if that use is giving people nightmares about giant spiders.
Well, you've made me a fan of giant man-eating centipedes that like to be worn as belts, as well!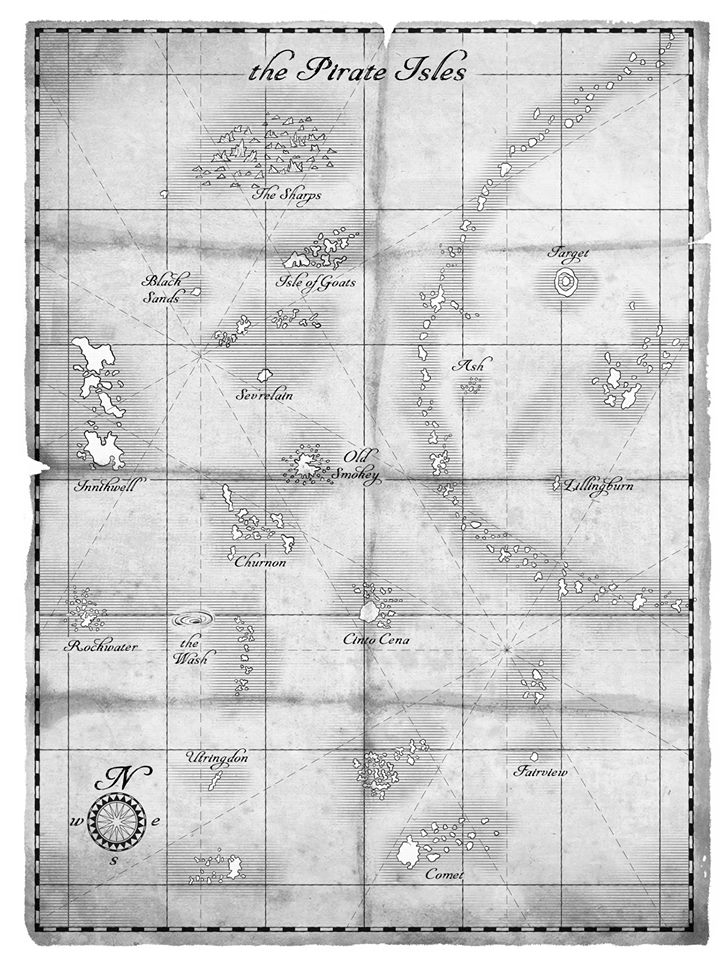 What inspires your stories? And what comes to you first: plot, characters, setting, or something else entirely?
ROB: I think I take a lot of inspiration from books, films & TV, and computer games. Often times something I see or read will just spark off my imagination and an idea is born. I remember watching the 3rd Pirates of the Caribbean film and there's a scene towards the end of the film where we see a fleet of pirates ships and then on the horizon we see an even bigger fleet of navy ships. I watched that and thought "This is gonna be epic!"... Well it wasn't. It was a massive let down to be honest and I remember thinking "I can do better than that." So now there's a few big naval battles in Best Laid Plans.
As to what comes first, it changes a lot from story to story. My main 3 characters from The Ties that Bind all existed for quite a while before I found a story for them. And on the complete flip side the story for Best Laid Plans existed before most of the characters. The setting for them both has been around even longer as I've been building First Earth for about 17 years at this point. I think I'm quite an organic writer, which works for me, but I often get to the end of a story and honestly have no idea how I managed to pull it all together.
I completely understand what you mean by feeling let down by naval battles in film, and you most definitely don't let readers down with your naval battles in Best Laid Plans!
You've already written multiple series. Where would you suggest a new reader start?
ROB: Chronologically speaking The Ties that Bind trilogy takes place first. However both that and the Best Laid Plans duology are designed to be read independently of each other, and my piratical books are newer and shinier so I'd say start with Where Loyalties Lie. There's a few crossovers in terms of characters and locations but little in the way of spoilers from one series to the next so it really is OK to read them in any order.
Good to know!! As someone who started with Where Loyalties Lie, I thought it was a fabulous introduction to the world of First Earth.
Do you have a favorite character you've created?
ROB: I don't think I have a definite favourite, but I do have some who I really love writing. Elaina Black was a good example of just that. I loved how fierce she is mixed in with some fairly detrimental daddy issues; she was a joy to write and I think it's because of that that she grew into a much larger part than I had originally intended for her. Another good example would be Anders Brekovich; he's so sardonic that I get to have a lot of fun crafting his dialogue. But I also love how blunt and down to earth the Black Thorn is, and digging into his old war stories is always a good laugh. So... no. I don't think I could pick a favourite.
I don't know that I could pick a favorite either, although I must say that T'ruck is a pleasure to read.
You started as a self-published author, signed a deal with a publisher, and went back to self publishing. What influenced that decision?
ROB: After a while I had quite a few grievances with the publisher I signed with and they just kept piling up. Between late royalty payments and delayed releases I began to lose confidence in the leadership of those in charge. The straw that broke the camel's back was that they sent an unedited manuscript of Where Loyalties Lie to Audible, so the audio version of that book is not the product I wanted to release. I've been quite vocal and descriptive of all my issues with the publisher so if anyone wants to know the details they can check out my blog posts on the matter.
I think it is worth mentioning that the leadership at the publisher has completely changed since I left, and the new folk in charge do seem to be making steps to fix the issues that both myself, and some of their other authors, have.
In the end though I'm quite happy to go back to self publishing. I like the control I have over everything, and working to my own schedule.
Is there any advice you can give aspiring writers who are trying to decide between self publishing and seeking a more traditional publishing deal?  And is there any advice you can give them on writing?
ROB: First thing I'd advise is to do your research, and take into account is that each author is different. Self publishing works for some and not for others, and the same can be said of the more traditional side of things. There are typically more upfront costs involved in self publishing what with having to pay for editing and covers and advertising, but then there's usually more in the way of payment for each book sold as well. Chances are though that by self publishing you will never be able to get the reach capable of a traditional publisher. It really is a case of reading up about the different avenues of publishing and deciding which one works best for you.
I must admit I struggle to give advice on writing. Again it's a case of what works for some people doesn't work for others. I would say the best advice I can give is write lots, read lots, and don't get disheartened by criticism... I'm still working on the latter myself.
Your books have stunning, high quality cover art. Who is your artist, and how are you able to secure such amazing artwork on your own?
ROB: The artwork for most of my books has been done by Alex Raspad, with cover design then handled by Shawn King. They're both excellent and very professional. It was pretty much a case of asking them to do the work. I think covers are often 'you get what you pay for', and as the first part of the book that most readers will see I feel it's worth paying for quality. That being said I know a few authors who do all their own covers and do a hell of a job with it. Unfortunately the extent of my skill in that area is shouting at photoshop because it won't do what I want it to. I have quite rightly decided that cover art and cover design are forms of ancient magic best left to wizards.
Would you tell us a little about the projects you currently have in the works?
ROB: I actually have quite a few projects in the works at the moment, some completed and ready for publishing and others in various stages of completion. I have another First Earth novel, a standalone called City of Kings, releasing next year. It features many of the characters from The Ties that Bind and the whole book takes place over a six day siege of a fortified city. I have a sci-fi noir thriller called Drones, that one is based on the premise of emotions being harvested and sold as a drug. I'm also currently writing an eastern inspired sword and sorcery novel called Never Die, and I have a YA epic fantasy in the works as well.
And at some point I will get around to finishing my First Earth saga books. There's two more series to write in that world before I'm done with it.
And lastly, what is a book or series (outside of your own) that has impacted you, and what book or books do you wish you could convince everyone to read?
There's a whole load of books that have definitely impacted me, but I think I'll go with Robin Hobb's Farseer and Tawny Man trilogies. Never before or since have I connected so emotionally with a book(s) or character. Reading about Fitz and the Fool is like spending time with old friends, and Hobb remains the only author who has ever made me cry at a book.
As for the books I wish everyone else would read... I'll go with Chris Wooding's Tales of the Ketty Jay. They are swashbuckling adventures in a steampunkish world and just so much fun to read. And if everyone in the world had read them I could have endless discussions about a particular scene where a character is involved in a dogfight thousands of feet in the air, while also involved in a fist fight with a cat.
Thank you so much for the thoughtful responses.  You made this first interview a great experience for me.
ROB: Thank you.  It was fun answering your questions.  Thank you for taking the time to do this.
You can visit Rob's official website here.
Where Loyalties Lie, book one of the Best Laid Plans duology, is available for purchase here.
The Fifth Empire of Man, book two of the Best Laid Plans duology, will release on September 26th, 2017.  You can preorder your copy here!
My reviews for Where Loyalties Lie and The Fifth Empire of Man are also linked for your reading pleasure.